About
My Pet Rabbit
About the Site

---
My Pet Rabbit was established in 2007 with primary objective is to provide useful information and resources for bunny-rabbit lover beginners. Many things could be written about rabbits; however our focus is more on rabbits as pet, even though we are providing some information beyond that too.
This site is dedicated to every bunny-rabbit lover. We are providing the information and resources which are…
Short – time is precious, save reading time
Sharp – instant information to gain some knowledge
Fun – why should we read if it isn't fun? :)
We believe collective knowledge is the best source of quality information. Therefore, we are seeking participation and contribution from you the readers and the community to share some fun experiences, interesting stories, useful tips, sweet photos or funny videos of yours. Let's promoting "rabbit democracy", it's from us, by us and for us :)
Hope you find our site is informative & useful!
About the Author

---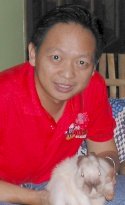 The story was begun when in early 2007 one of my daughters told me that she really wanted to keep a kind of pet to play with. At that time we already had some freshwater fishes but she wanted other kind that can be more interactive. I like dog but it was certainly out of picture as we live in a small house with not much yard.
Then I remembered when I was a kid I had a big backyard in which the grasses grew so quickly. Instead of asked somebody to cut off the grasses regularly why didn't keep some rabbits to eat them? Then I asked my parents bought me some rabbits. But I didn't know that rabbit eats all the time and grasses in a big backyard only left their roots in only couple days, and those grasses also grew slower than my rabbits ate :)
I liked very much to play with my rabbits and had such fun and a good time. I thought my daughters should have the same experience as me too. Then I bought them 4 young rabbits: black, white, grey and brown. And as predicted they love them very much.
I looked for information about how to keep rabbit as pets on internet. There were some good sites, but to my surprise very little of them providing comprehensive information and resources about pet rabbit. And, among those sites sometimes also has different information about same topic. What confusion, and it didn't satisfy me.
If somebody could gathers those information, do deep research, summarize and conclude in simple single site then it will be great for somebody's looking for information about pet rabbit, just go to one place. Coincidentally, at that time I was in brainstorming phase on creating a website as my new passion. It was a perfect match, why didn't that "somebody" was me? Great! :)
But wait! By brainstorming to create a website for me was meant I've just finished read a book (Multiple Streams of Internet Income by Robert G. Allen) and didn't know how to create a website in practical. So how? I visited many websites featured in that book and came across to one site that offering All-in-one tool on how to create website and successfully attracts visitors. Surprisingly for me that this site wasn't just offering useful and effective tools but more like my private learning portal about creating website things.
And for short… using the knowledge and tools from that site, My Pet Rabbit went live in end of that year and keeps growing. As I post new contents from time to time, the visitors of this site also increasing. That makes me excited!
Beside from good sites on the net and experiences during keep rabbits at home, I also gain some knowledge about rabbit from some books and literatures, ask the practitioners, visit rabbitries, info sharing with friends, and other ways. Interestingly, the more I learn and know about rabbits, the bigger the passion I get about them.
Hope I could share these passion and knowledge to you all.
Thank you.
Cheers!
Hendy
Live in Jakarta, Indonesia
click here to contact me
PS:
Do you also have an interesting story to tell? Let the rabbit lovers around world know about your story. Why not? Submit here if you dare to share!

Return from About My Pet Rabbit to homepage